Who's that guy? Seth Smith edition!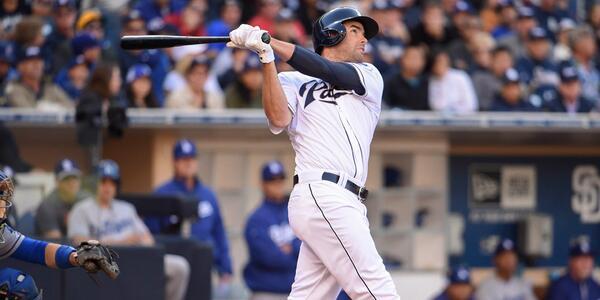 When the Athletics acquired Craig Gentry from the Rangers this past offseason, it was clear someone had to go; between Gentry, Coco Crisp, Yoenis Cespedes, Josh Reddick, and Seth Smith they had five outfielders for three spots (though at least had the luxury of the DH position available), all of whom were too good (/valuable as trade pieces) to simply languish on the bench. Cashing in one of their outfield chips for additional help elsewhere on the roster thus seemed inevitable for Oakland – it was just a matter of who would go. In the end it was Smith who was the man to escape not only the O.co Coliseum's dreaded sewage system, but the A's positional logjam, traded to San Diego in return for highly regarded reliever Luke Gregerson.
Once again though, despite his change in zip codes, Smith found himself surrounded by a bevy of capable outfielders, positional incumbents Cameron Maybin, Will Venable, Chris Denorfia, and Carlos Quentin all presumably vying for limited at bats (not to mention rookie Tommy Medica transitioning to the outfield after an impressive cup of coffee in 2013, or the presences of Kyle Blanks and Alexi Amarista). With no DH slot to fill in at either, it looked like the 31-year-old would be used sparsely as a situational pinch-hitter until the depth chart was thinned. Fortunately for Smith, albeit not so much for those mentioned, his path to playing time was made somewhat easier when both Maybin (ruptured biceps tendon) and Quentin (lingering knee issues) went down with injuries; with their absences, Bud Black would have little choice but to give Smith run as the strong side of a left field platoon with Medica.
So (#small) far (sample) so (size) good. Four at bats into his Padres career, the former backup quarterback of Eli Manning at Ole Miss already has two homers, including the game tying shot against the Dodgers' Brian Wilson in Sunday's Opening Night tilt – a hanging 2-and-0 cutter that he crushed to right field, endearing himself to his new home crowd.
Due to yesterday's focus, the lefty Hjun-jin Ryu starting for L.A., Smith and his garish .203 average against fellow portsiders were relegated to pinch-hitting duties that night, but his 8th inning leadoff jack started the three run rally for San Diego that would ultimately propel them to victory. He was at it again just two nights later, getting the start in left against Zack Greinke, and breaking up the righty's no-hit bid with a similar bomb in the fourth inning (it was a 2-and-1 change-up that he took 374 feet to right on Tuesday). This time though, his best efforts (2-3, 1BB) weren't enough to lift the Friars over their NL West rivals.
Selected by the Colorado Rockies in the 2nd Round of the 2004 amateur draft, Smith has proven to be a useful player during his tenure in the majors; since making his debut in 2007, Smith has a lifetime line of .265/.342/.456, his best season coming in 2009, when he hit for .293 with 55 RBI and 14 homeruns with a .510 slugging percentage. His extreme splits though have sufficiently limited his ultimate usefulness as an everyday player – his OPS diving .262 points against fellow southpaws compared to his .849 mark versus righties. For comparisons sake however, since Smith came up in 2007, Andre Ethier owns a -.200 OPS differential between his total mark and that against lefties, while Shin-Soo Choo checks in with a -.174 figure; Smith though, will make $4.5 million this year before becoming eligible for free agency, while Ethier has (including this year and his vesting option) $86.5 million remaining on his deal, and the 31-year old Choo has just started a seven-year $130 million pact. I shall say no more.
In a carefully managed 400-500 PA role, Smith could prove very useful – and supremely valuable – indeed. As demonstrated over the past couple of days, he has the potential to pick on righties; Bud Black's optimal usage of his lefty weapon then should see him face no one but right-handed pitchers in a similar (albeit less-powerful) platoon role as former Oakland teammate – and previous DP topic – Brandon Moss. The Padres could sure do with his continued platoon production – last year San Diego ranked 25th in baseball with a .241 average against right-handed pitching, and were 29th in OPS (.668) against righties (H/T to Corey Brock of MLB.com).
Tipped by many to sneak a NL Wild-Card berth, Smith's lefty pop could be pivotal in swinging a few games San Diego's way in 2014, and thus helping them back to the postseason. Sure it may have taken a couple of unfortunate injuries for him to get his shot, but just ask the Dodgers what Seth Smith can do when given the appropriate chance.